College Hijinx

Covering President Carter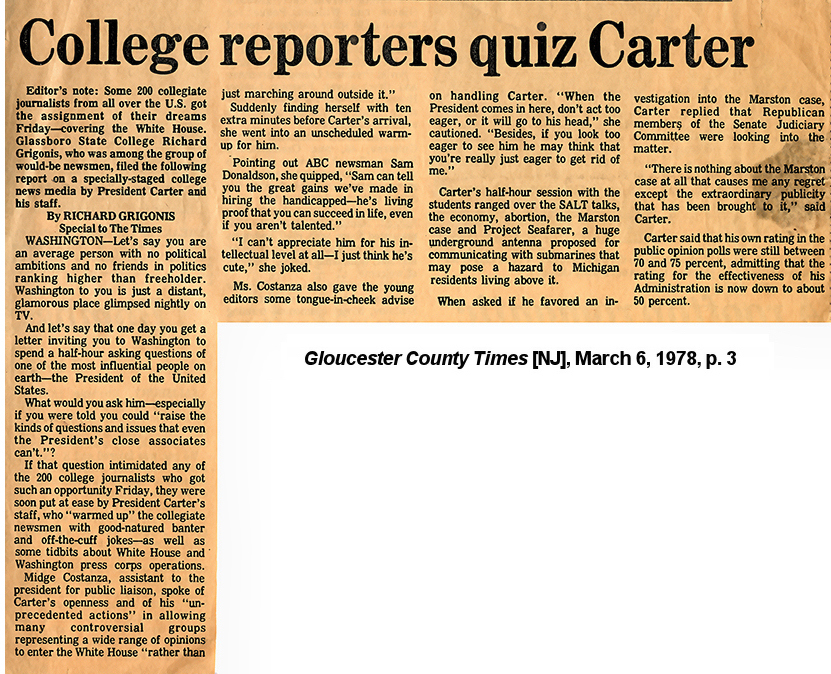 It was the start of a long weekend in early February 1978. Yours Truly, then a senior at Glassboro State (later renamed Rowan University) was hanging around the college's Bureau of Student Publications, in the office of Venue, our college's "humor and information" magazine, of which I was a writer, columnist and layout & design editor. As I was going through the daily mail, Robert Hartlein of our college's newspaper, the Whit, popped in and started up a conversation.
Suddenly, I realized that I was holding in my hand an invitation to the Whit for an on-the-record news conference for college journalism students with President Jimmy Carter.
"Bob, you're in luck! You're the only one here from the Whit and you can call in an accept this incredible invitation to meet President Carter in Washington! Here's the phone number to call them."
Bob looked worried. "I don't think I should be so presumptive," he said. " I should clear this with the editors. One of them will almost certainly want to go."
"By the time they come back, all of the spots will have been filled," I replied. "You've got to act now!"
Bob was still reticent, so I said, "Hell, I'll call them myself." I did, and accepted the invitation.
At that point, Bob suddenly decided he wanted to go too. So we called back and, amazingly enough, Bob secured an invite too, representing Venue. We were now in the strange position of representing each other's publications in Washington!
Just before Hartlein and I traveled to our nation's capital, I thought I would have bit of fun with the editors of the Whit. At one of their layout sessions, I sauntered in and said, "Oh by the way, I'll be talking with President Carter next week. You want me to ask him anything?"
After a few snickers and annoyed looks by the editors at my obvious breach of decorum, not to mention overall sanity, one said, "No, that's okay. We're fine for the next issue."
Bob Hartlein looked like he wanted to hide under a desk.
Bob and I took the train to D.C. and ended up saying at a Travel Lodge, taking our meals at an adjacent Chinese restaurant. We both ordered T-bone steaks, much to the bemusement of our Chinese hosts.
On the morning of the media event, March 3rd, about an inch of snow fell on Washington. That doesn't sound like much, but to a southern city such as Washington, 0.9 inches of snow can bring the entire metropolis to a halt, and it did. All of the taxis were busy, so Bob and I started out on foot. We soon found a bus idling, its driver preparing for the daily routine. I decided to attempt to commandier the bus.
Bob and I jumped aboard the empty vehicle. I looked the driver directly in the eye and exclaimed with a straight face, "Take this bus to the White House!"
The driver sat there, looked at these two suited teenagers and pondered the situation for a moment.
"You know, I've got to go in that direction anyway. I'll drop you off."
Fifteen minutes later, a bus pulled up to the White House and the two of us got out. (Today, of course, such a thing would be impossible, what with the barriers and vigilant armed guards watching for any vehicle straying from strictly regulated routes.)
The news conference was actually being held not at the White House, but at the Old Executive Mansion nearby. We checked in with a fellow at a desk there and got in line with 200 other student journalists from around the country (and one older journalism professor who somehow got in).
While standing in line, I readied the three Nikkormat cameras I had signed out from the our college's audio visual department. One camera was equipped with a 28mm wide angle lens. The second camera had a 50mm "normal" lens. The third had a 110mm telephoto. I arranged the straps so that all three would hang in front of me, one above the other, so I could quickly grab whatever type of shot I needed.
I decided to get down on the floor and take a photo looking up at the line of people.
A security fellow, spying my antics, got behind me and started glaring. I played it cool after that.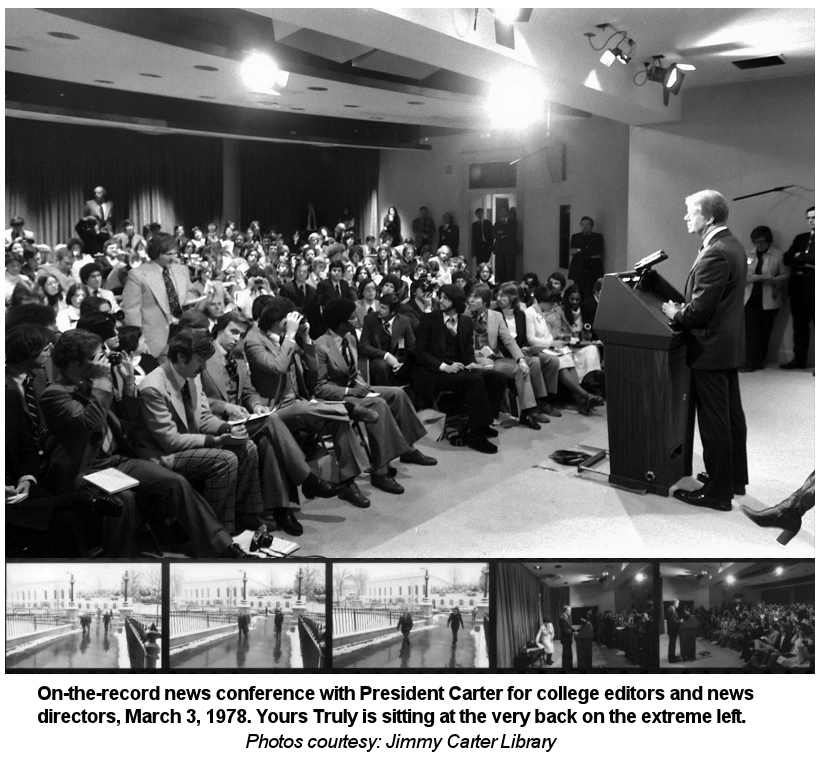 At the appropriate time, we were all led in to an auditorium and, before Carter came out for his half-hour Q&A session, we were subjected to a long series of speeches and Q&A sessions with various other members of the administration, such as Midge Costanza, assistant to the President for public liaison. Some "real' reporters were in attendence too, such as Sam Donaldson of ABC News. I alternately sat and took notes, or stood up at the very back of the auditorium, snapping photos.
No Recordings!
Just before kicking off the student media event, it was announced that "no recordings are permitted." Since I had brought along a small, innocuous cassette recorder with me, I thought nothing of turning it on and placing it on an adjacent chair. I checked the recording level and everything was okay. Partway through the event, I needed to momentarily place the recorder on the floor as I arranged my notes and film canisters on the chair. I then picked up the recorder and put it back on the chair. Fortunately, I checked the recording again. Strangely, the tape that previously sounded okay was now blank! I now ignored the government speakers and instead focused on this fascinating mystery. With the recorder still on the chair, I made another recording and played it back. The sound was fine. I then took the recorder off of the chair and placed it on the floor for a few seconds, then put it back on the chair and played back the cassette. It was again blank! I made a recording on the chair and played it back. It was fine. I took the cassette out of the recorder, put it back, and played it. It was fine. I then took out the cassette and, still holding it with my hand, waved it near the floor. When I placed the cassette back in the recorder and played it—it was blank!
Ah ha, I thought, they have magnetic degaussers under the floor of this auditorium! Degaussers are simply wire coils through which an alternating current is sent, thus generating a corresponding alternating magnetic field that can be used to "bulk erase" magentic recording tape and computer disk drives. Obviously, when the White House says, "No recordings," they really mean it!
Mr. Photographic Memory Arrives
Finally, President Carter made his appearance and started answering questions from everyone, even the old professor who somehow snuck in.
Elsewhere on this site, I mention the fact that my mother had a photographic memory. Readers of this may be surprised to learn that Carter has one too. You can introduce him to 100 or more people in rapid succession, and when it comes time to leave, Carter can say goodbye to everyone by name in equally rapid succession!
Carter demonstrated his memory abilities by adroitly handling questions on literally every problem in America, no matter how strangely "local" to the questioner. That's what really impressed me— 200 people asking about 200 local gripes. The whole situation illustrated the old adage that "all politics is local".
Aftermath
After the special media concluded, Bob Hartlein and I returned to Glassboro, where we each wrote stories for our respective publications, much to the surprise (almost downright horror) of our generally stupified editors. I even wrote an article about it for a local paper (reproduced above). It was the first thing I ever published "professionally".
As for Robert Hartlein, he became a journalist and writer, first for Women's Wear Daily in New York City, and then as a freelancer for major celebrity magazines and newspapers, including the National Enquirer. He's interviewed dozens of stars, including Oprah Winfrey, Susan Lucci, Olivia Newton-John, Kathie Lee gifford and Brooke Shields' ex-husband, tennis great Andre Agassi.
Hartlein became a celebrity news item himself when he went to a nursing home in Old Tappan, New Jersey and checked out Teri Shields, mother of Brooke Shields, and took her shopping. Brooke was furious when she found out that the nursing home had let a reporter 'extract' her Mom from the facility to run some errands. Even so, Bob had been personal friends with Teri Shields for 10 years. Brooke and the Enquirer eventually settled their disagreement over the incident. The Enquirer issued an apology and made a "generous" donation to The American Academy of Neurology Foundation. Their statement reads, in part, "It was never the intention of the reporter, the photographer or anyone at the National Enquirer to cause harm to anyone." They also said that the "police investigation revealed no wrongdoing by the National Enquirer" but add that they "apologize for alarming Brooke Shields."